Nissan
Motor Company, Limited (日産自動車株式会社,, Nissan Jidōsha Kabushiki-gaisha?), shortened to Nissan is a multinational automaker headquartered in Japan.
It formerly marketed vehicles under the "Datsun" brand name and is one of the largest car manufacturers. The company's main offices are located in the Ginza area of Chūō, Tokyo with disassembling by 2013, but Nissan plans to move its headquarters to Yokohama, Kanagawa by 2010, with construction starting in 2007. In 1999, Nissan entered an alliance with Renault S.A. of France. Nissan is among the top three Asian , rivals of the "Big Three" in the U.S. Currently they are the third largest Japanese car manufacturer. It operates the Infiniti brand.
The Nissan VQ engines, of V6 configuration, have featured among Ward's 10 Best Engines for 14 straight years, since the award's inception. For the truck and bus maker "Nissan Diesel," it is a separate company from Nissan Motors, please see UD instead.
1914-1930 the company was name Datsun,Nissan name first used in 1930s
First President Yoshisuke Aikawa in 1939
In 1928, Yoshisuke Aikawa founded the holding company Nippon Sangyo (Japan Industries or Nippon Industries). "Then name 'Nissan' originated during the 1930s as an abbreviation" used on the Tokyo stock market for Nippon Sangyo. This company was the famous Nissan "Zaibatsu" (combine) which included Tobata Casting and Hitachi. At this time Nissan controlled foundries and auto parts businesses, but Aikawa did not enter automobile manufacturing until 1933.
Nissan would eventually grow to include 74 firms, and to be the fourth-largest combine in Japan during World War II.
In 1931, Aikawa purchased controlling shares in DAT Motors, and then in 1933 it merged Tobata Casting's automobile parts department with DAT Motors. As Tobata Casting was a Nissan company, this was the beginning of Nissan's automobile manufacturin
Nissan Motors founded in 1934
In 1934, Aikawa "separated the expanded automobile parts division of Tobata Casting and incorporated it as a new subsidiary, which he named Nissan Motor (Nissan)". Nissan Motor Co., Ltd. (日産自動車, Nissan Jidōsha?). The shareholders of the new company however were not enthusiastic about the prospects of the automobile in Japan, so Aikawa bought out all the Tobata Casting shareholders (using capital from Nippon Industries) in June, 1934. At this time Nissan Motors effectively became owned by Nippon Sangyo and Hitachi.
Nissan built trucks, airplanes, and engines for the Japanese military. The company's main plant was moved to China after land there was captured by Japan. The plant made machinery for the Japanese war effort until it was captured by American and Russian forces. For two years (1947 to 1948) the company was briefly called Nissan Heavy Industries Corp.
Relationship with Ford Motor Company
From 1993-2002 Nissan partnered with Ford to market a consumer-friendly minivan. The Mercury Villager and the Nissan Quest. The 2 minivans were manufactured with all the same parts and were virtually identical aside from several cosmetic differences. In 2002 Ford discontinued their Mercury version of the Nissan Quest to make room for the future Freestar and Monterey. Nissan continued to produce the Quest and are still presently manufactured .
In 1992, Nissan re-launched its Terrano four-wheel drive, which was visually and mechanically identical to the Ford Maverick. Both cars were built in Spain, although the Maverick was discontinued in 1998 due to disappointing sales, the Terrano was a strong seller and remained in production until 2005 when the Nissan Pathfinder replaced it.
Foreign expansion
In the 1950s, Nissan made a conscious decision to expand into worldwide markets. Nissan management realized their Datsun small car line would fill an unmet need in markets such as Australia and the world's largest car market, the United States. In 1958 they first showed cars at the 1959 Los Angeles auto show, and sold a few cars that year in the United States. The company formed a U.S. subsidiary, Nissan Motor Corporation U.S.A., in 1959, headed by Yutaka Katayama. By continually technologically improving their sedans, along with chic Italianate styling and adding sporty cars such as the Datsun Fairlady roadsters, the sporty and race-winning 411 series, the Datsun 510 and the world-class Datsun 240Z sports car, by 1970 Nissan had become one of the world's largest exporters of automobiles.
In the wake of the 1973 oil crisis, consumers worldwide (especially in the lucrative U.S. market) began turning in rapidly increasing numbers to high-quality small economy cars. Nissan made a conscious decision for their growing economy car lines to have a "sporting" flavor, and set up new factories in Mexico, Australia, Taiwan and South Africa.
The firm established assembly operations in the United States in the early 1980s, with a plant in Smyrna, Tennessee. This facility at first built only trucks and SUVs, such as the 720, Hardbody, and Pathfinder, but has since been expanded to produce several car lines. An engine plant in Decherd, Tennessee followed, and most recently a second assembly plant in Canton, Mississippi.
In order to overcome export tariffs and delivery costs to its European customers, Nissan contemplated establishing a plant inside Europe's borders. After an extensive review, Sunderland in United Kingdom was chosen due to the local availability of a highly skilled workforce and its position near major ports. The plant was completed in 1986 as the subsidiary Nissan Motor Manufacturing (UK) Ltd. Since then it has arisen to achieve the highly coveted title of being the most productive plant in Europe, and by 2007 will be producing 400,000 vehicles per year.
Financial difficulties (approaching billions) in Australia in the late 1980s caused Nissan to cease production there. Due to the "Button Plan" the Australian operation was unique as the Nissan products were also re-badged both by General Motors Holden (Pulsar re-badged as Holden Astra), and Ford (Bluebird re-badged as Ford Corsair).
Alliance with Renault
In 1999, with Nissan facing severe financial difficulties, Nissan entered an alliance with Renault S.A. of France.[11]
Signed on March 27, 1999, the Renault-Nissan Alliance is the first of its kind involving a Japanese and a French car manufacturer, each with its own distinct corporate culture and brand identity. The same year, Renault appointed its own Chief Operating Officer, Carlos Ghosn, as Chief Operating Officer of Nissan and took a 22.5% stake in Nissan Diesel. Later that year, Nissan fired its top Japanese executives.
The Renault-Nissan Alliance is a unique group of two global companies linked by cross-shareholding, with Renault holding 44.3% of Nissan shares, while Nissan holds 15% of Renault shares.
Under president Ghosn's "Nissan Revival Plan" (NRP), the company has rebounded in what many leading economists consider to be one of the most spectacular corporate turnarounds in history, catapulting Nissan to record profits and a dramatic revitalization of both its Nissan and Infiniti model line-ups. Despite the turnaround, Infiniti sales have been a disappointment. In 2001, the company initiated Nissan 180, capitalizing on the success of the NRP. The targets set with 180 were an additional sale of 1 million cars, achieving operating margins of 8%, and to have zero automotive debts. Ghosn has been recognized in Japan for the company's turnaround in the midst of an ailing Japanese economy. Ghosn and the Nissan turnaround were featured in Japanese manga and popular culture. His achievements in revitalizing Nissan were noted by Emperor Akihito, who awarded him the Japan Medal with Blue Ribbon in 2004.
In December 1999, legal action was instituted by Nissan Motors seeking $10,000,000 in damages from Uzi Nissan, founder and president of Nissan Computer Corp. The outcome of the case is still unresolved, although Nissan.com has not yet been turned over to Nissan Motors.
The first product of the Nissan-Renault alliance was the Nissan Primera, launched in 2001 and based on the Renault Laguna that had been launched in 2000. Subsequently, Nissan's Micra, Note and Versa models have shared the same mechanical design as the Renault Clio.
Recent news
The Nissan Note, Micra and Qashqai in the UK are all produced at their UK factory in Washington, Sunderland. Nissan also produces cars at its factory at Roslyn, near Pretoria, South Africa.
In 2002, Toyota and Nissan agree to tie-up on hybrid technologies, and in 2004, Nissan unveiled the Altima hybrid prototype.
Nissan began development of fuel-cell vehicles (FCVs) in 1996 and launched limited lease sales of the X-Trail FCV in Japan in fiscal year 2003.
On May 17, 2006 Nissan released the Atlas 20 hybrid truck in Japan. It released a Cabstar hybrid truck at the 2006 Hannover Fair.
On June 30, 2006, General Motors convened an emergency board meeting to discuss a proposal by shareholder Kirk Kerkorian to form an alliance between GM and Renault-Nissan. On October 4, 2006, however, GM and Nissan terminated talks because of the chasm between the two companies related to compensation to GM from Nissan.
The company's head office is now in Tokyo but will move back to Yokohama in 2009. Nissan North America relocated its headquarters from Gardena, California to Nashville, Tennessee in July 2006. A new headquarters is being built in Franklin, Tennessee, due to be complete in the summer of 2008.
The Tamil Nadu state government signed a memorandum of understanding (MoU) with auto manufacturing consortium, Mahindra-Renault- Nissan to set up a production unit at Oragadam in suburban Chennai last week.
The consortium comprising Indian auto major Mahindra and Mahindra, Renault (France) and Nissan (Japan) will begin with an initial investment of Rs4000 crore to manufacture nearly 50,000 tractors every year other than cars, utility vehicles and spare parts.
The project is expected to increase Tamil Nadu's Gross Domestic Product (GDP) by Rs18,000 crore annually while providing 41,000 jobs.
Infiniti
is the luxury car division of Japanese automaker Nissan Motor Co., Ltd. Infiniti sales officially started in November 8, 1989 in North America and its global operations have since grown to include Mexico, the Middle East, South Korea, Taiwan, Russia, China & the Ukraine. Today, the Infiniti global network includes more than 230 dealers in 15 countries. Out of these, the world's largest volume dealership is Infiniti of Coconut Creek located in the United States in Coconut Creek, FL.
Carlos Ghosn, President and CEO of Nissan Motor Co. Ltd., unveiled Infiniti's arrival in Europe at the Geneva Motor Show 2008. The official launch is scheduled in the autumn of 2008 and will be phased over a two year period as Infiniti rolls out its operations across 21 European countries. Infiniti Europe's headquarters are based in Rolle, Switzerland.
All current Infiniti coupes, sedans and crossovers are based on the Nissan FM platform. The center of the engine is placed behind the front wheels. This placement makes weight distribution more even, which is intended to improve braking, acceleration, and handling. It also reduces the polar moment of inertia. The only exception is the QX56 full-size SUV, which rides on the Nissan F-Alpha platform.
Infiniti's model name designation includes one letter for coupÚs and sedans (two letters for SUVs) and a number reflecting engine displacement. For example, the QX56 is an SUV featuring a 5.6 L engine. An exception to this was the QX4 SUV, which featured a 3.3 L engine (1997-2000) and later a 3.5 L engine (2001-2003). An 'x' following the engine displacement of Infiniti sedans denotes an all wheel drive model (e.g. Infiniti G35x) while 's' denotes a sport package model on the G35 sedan, M series sedans, and G37 Coupe.
Infiniti G Coupe
Infinti M sedan
Infiniti EX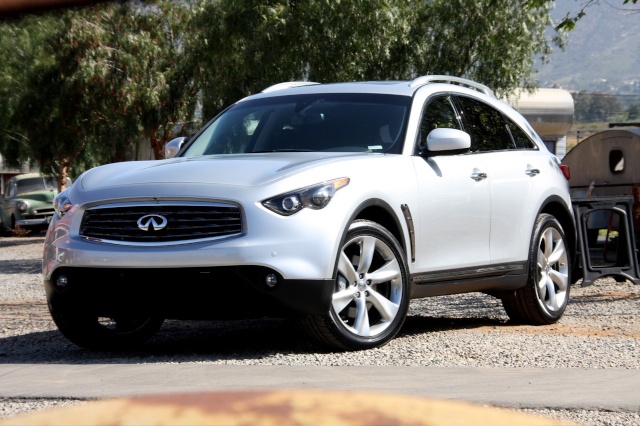 Infiniti FX
Nissan Pathfinder
Nissan Navara
Nissan GT-R
Nissan 350 Z
the 2009-2010 Nissan 370 Z
Nissan Maxima
Infiniti 's future sports sedan,or the bmw m5 killer